Speedy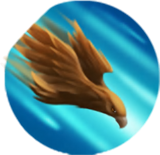 Speedy is a badge that can be earned in Bejeweled Blitz.
This badge only appears in the PC version of this game. Its benchmarks require the player to create Speed Bonuses with specific numbers of consecutive chain matches, with the number needed increasing with benchmark.
The image representing the badge depicts a large brown eagle that appears to be soaring.
Benchmarks
Bronze – Create 5 Speed Chains of 20 matches.
Silver – Create 10 Speed Chains of 25 matches.
Gold – Create 20 Speed Chains of 30 matches.
Ruby – Create 30 Speed Chains of 40 matches.