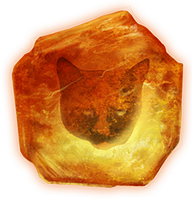 Rare Gems are extra-special gems that enhances the player's game. They are only found in Bejeweled Blitz but not the discontinued PC version. All of them cost coins in order to be activated, although some can be activated for free via in-game events and other giveaways from Bejeweled's Facebook fan page. All acquired Rare Gems that are not activated when the player receives them can be found in the "items" tab and they can be activated at any time before starting the game in Blitz mode.
Overview
There are many Rare Gems that can be earned and some of them can appear randomly. Although, according to a tip in the Facebook version that Rare Gems are very rare, they randomly appear more frequently and sometimes they appear after every match on Blitz and Party modes.
Since December 2014, Rare Gems can be earned through the Daily Challenge, where the player must earn the Gold Star Cat Rank by scoring at least a certain amount of points in the challenge. Rare Gems can also be earned by achieving certain Key Stone goals.
Continuous Rare Gem "streaks" are offered for up to three Blitz games in a row, each with a successively lowered price.
Doing a Daily Spin five times in a Weekly Tournament gives a free Rare Gem.
List of Rare Gems
Standard
Icon
Name
Description
Harvest price
Streak price
Lowest streak price
Moonstone
MOONSTONE
15,000
12,000
10,000
Cat's Eye
CATSEYE
25,000
20,000
15,000
Phoenix Prism
PHOENIXPRISM
75,000
60,000
50,000
Blazing Steed
BLAZINGSTEED
55,000
40,000
30,000
Kanga Ruby 1
KANGARUBY
50,000
40,000
35,000
Kanga Ruby 2
KANGARUBY2
Kanga Ruby 3
KANGARUBY3
Big Apple
Match apples and red gems to get a juicy score!
40,000
35,000
30,000
Limited
Icon
Name
Description
Harvest price
Streak price
Lowest streak price
Rock-It Blast
Match Fireworks with Blue Gems for explosions!
75,000
60,000
50,000
Ice Burrrst
Snowflakes and white gems make a blizzard of fun!
50,000
40,000
30,000
Heart Stone
Match hearts with red gems for lovely explosions!
70,000
65,000
60,000
Tic-Toc
Match Scarabs for extra time!
65,000
60,000
50,000
Progressive
Match white gems to summon Flo!
30,000
25,000
20,000
Aquartz
Orange and Aquartz Gems make unbe-leaf-able scores
75,000
70,000
60,000
Hot Cocoa
Match white gems to use marshmallow power!
Coin Catcher
Match Coin rings and Gems for a rich reward!
70,000
65,000
Birthstone
Collect bows to make mystery gems!
60,000
55,000
50,000
Aquamarine
Match blue gems to unleash the power of the sea!
80,000
75,000
60,000
Sprinkle Blast
Sprinkles are for winners.
40,000
35,000
30,000
Sunstone
Yellow and Sunstone Gems make brightest scores
100,000
90,000
80,000
Rainbow Bloom
Match white gems to make the board bloom!
80,000
75,000
70,000
Spookstone
Match with orange gems for frightfully high scores
90,000
85,000
80,000
Bundle Blast
Save big and score high with Progressive Bundles!
55,000
45,000
40,000
Mistlestone
Make matches with Mistlestone to get Special Gems!
70,000
65,000
60,000
Love Potion
Get your perfect match every time!
120,000
110,000
100,000
Super Clover
Super Clovers & green gems give you super scores!
75,000
65,000
55,000
Chronostone
Match Chronostones for extra time!
90,000
80,000
75,000
Super Flower
Match buds and purple gems for a blooming reward!
75,000
60,000
50,000
Rising Star
Light the way for Bejeweled Stars!
100,000
95,000
85,000
Sapphirefly
Match with blue gems to release magical fireflies!
85,000
80,000
75,000
Treasure Shell
Shellebrate a treasure of orange cascades!
Stemerald
Sprout super scores by matching with green gems
90,000
85,000
80,000
Hocus Topaz
Match purple gems to get magical scores!
100,000
90,000
85,000
Autumnthyst
Bask in the autumn glow by matching orange gems!
85,000
80,000
75,000
SnowGlove
Banish the blues with a SnowGlove!
100,000
95,000
90,000
Chimestone
Ring in the high scores with the Chimestone!
120,000
100,000
95,000
Illuminite
Match with red gems and light up your leaderboard!
90,000
85,000
80,000
Crown Jewel
Match with yellow gems for majestic scores!
100,000
95,000
90,000
Panda-monium
Match white gems & fill up the bar for high scores
110,000
100,000
Glitterbug
Match red gems to convert more gems into red
95,000
90,000
85,000
Citrine
Match with Orange gems to post tangy scores!
120,000
110,000
100,000
Coralite
Traverse the Great Leaderboard Reef with Coralite!
95,000
90,000
85,000
Plume Blast
Flutter to the top of the leaderboard!
105,000
100,000
95,000
Archstone
Hit the bullseye with every match
100,000
95,000
90,000
Splashberry
Match and slice to post sweet scores!
Howlite
Haunt the leaderboard with frightening scores!
110,000
105,000
100,000
Kernel Pop
Watch your scores go pop!
105,000
100,000
95,000
Glimmerbread
Bake twinkling high scores!
Blue Thunder
Wield the power of absolute Mastery!
120,000
110,000
100,000
Twinkle Tree
Spread the festive cheer!
Boomstone
Match Red Gems to post Bombastic Scores!
100,000
95,000
90,000
Groovestone
Match purple gems to post groovy scores!
Leprecharm
All that is green is gold!
Eggate
Hop your way to the top of the leaderboard!
120,000
110,000
100,000
Unicharm
Match orange gems for sparkling scores!
100,000
95,000
90,000
Crystalada
Obtain pristine scores by matching yellow gems!
Starshooter
Shoot for a high score!
Fire-N-Spice
Match Red Gems to post Spicy Scores!
PowerPuffer
Swim to the top of the leaderboard!
WhichWitch
Brew magical scores by matching green gems!
High Roller
Roll to the top of the leaderboard!
Saint Nick
Bask in halo of a high score!
Holijade
Match Green gems to get a wealthy score!
120,000
110,000
100,000
Hamethyst
Carat Cake
Giddy Luck
Vitamin Blast
Flo Power