This article is a stub. You can help Bejeweled Wiki by expanding it as much as possible.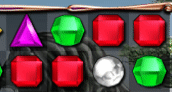 Elite Technique (ET) is a category of advanced movement techniques most commonly seen in Bejeweled Blitz, with some variants also possible in Bejeweled 3. They are performed through precisely-timed illegal moves to create; or in some variants, to preserve; a power gem not usually possible using standard movement rules.
Overview
The first discovery of Elite Technique in its frequently known form is frequently attributed to Kirbbard back in May 2010[1][2]. Originally thought to be a bug, PopCap's unwillingness (or inability) to "fix the bug" caused it to be embraced by more Bejeweled Blitz players; by early 2011, knowledge and research of ET has become an established field among players.
References
↑

However, the discovery of Aerial Technique dates back further; having been discovered as soon as free-movement of Gems was implemented in Bejeweled Blitz.