Cognito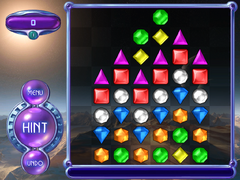 Cognito, also known as Cognito mode, is one of the nine playable game modes in Bejeweled 2. It is an unlockable game mode that becomes available by solving all 80 puzzles in Puzzle mode.
Gameplay
In Cognito mode, the player will be given puzzles from Puzzle mode with the gems in different colors. Each group of puzzles is considered a level. Points are earned as they are in Classic, as is the level completion system. If a hint is used, all points for the current puzzle aren't counted. The hint system is reused from the Puzzle mode. At the end of all 80 puzzles, repeated puzzles solved without hints used will be counted.
Trivia
The name of this game mode is most likely derived from the word "incognito", one appearing or living incognito.
In Cognito mode, the Galaxy Map cannot be accessed.
Names in other languages
| Language | Name | Meaning |
| --- | --- | --- |
| French | Cognito | Cognito |
| German | Kognito | Cognito |
| Italian | Sfida | Challenge |
| Portuguese | Cógnito | Cognito |
| Spanish | Cógnito | Cognito |
Gallery

This article is a stub. You can help Bejeweled Wiki by expanding it as much as possible.