We need more Hypercubes and Star Gems.

This article is currently under construction. So expect incomplete information on this page.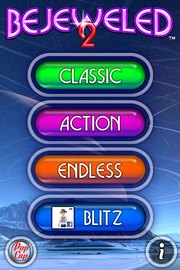 The
Bejeweled
series is a puzzle video game series created by
PopCap Games
. It has spawned 6 games in total; three main games, and three spin offs.
Bejeweled
Bejeweled is the first game of the series, it was released on May 30th, 2001 as a free Flash game and later ported and improved as a paid game to PC (as Bejeweled Deluxe) and mobile devices (as J2ME). More than 150 million people have downloaded the game and 10 million copies were sold.
Bejeweled 2
Bejeweled 2 is the second game in the series that was made and completed 4 years after its previous game and was released on November 5th, 2004 for the PC. Later on it was released for the Xbox 360 (November 22nd, 2005) for 800 MS (Microsoft Points), iPod (September 12, 2006), iPod touch (July 3rd, 2008), WiiWare, and Android devices. The Deluxe version contains unlockable modes unlocked through various requirements.
Bejeweled Twist
Bejeweled Twist is a spin off that was released and completed 4 years after Bejeweled 2. The initial release in 2008 was for the PC, and later for Nintendo DSi then Nintendo DS. It changes the gameplay because you twist gems instead of swapping them. More than 300 million people have downloaded the game.
Bejeweled Blitz
Bejeweled Blitz, the second spin off that was the only game to be released for Facebook. It was later was released for PC (although discontinued), iOS, and Android devices. It features its main mode (Blitz), where you have to score as high as possible in one minute; Blitz Party; and Daily Challenge.
Bejeweled 3
Bejeweled 3 is the third game in the main series. It was created by PopCap Games and was released on 7th December 2010 and it features high-definition graphics, new and/or improved game modes, and several other features. Some of the ports of the game are ports of the game modes and re-branded as Bejeweled for Android and iOS versions and Bejeweled Live and Bejeweled Live+ for Windows 8 and 10 and Windows Phone respectively.
Bejeweled Stars
Bejeweled Stars, formally known as Bejeweled Skies is the third spinoff of the Bejeweled series by PopCap Games. The game was soft-released to Canada on December 2015, and entered a wider release in select countries worldwide in May 2016.
Trivia
In 2010, it was known as the the Year of Bejeweled, celebrating the 10-year anniversary from its first release.

Also, the official Bejeweled YouTube channel released a video of this series prior to Bejeweled 3

In 2013, Hasbro announced 3 Bejeweled board games, including: Bejeweled, Bejeweled Frenzy and Electronic Bejeweled Blitz.

The first of Bejeweled (Board Game) and Bejeweled Frenzy were released in Spring 2013.
The second of Electronic Bejeweled Blitz was released in Fall 2013.
Gallery
Community content is available under
CC-BY-SA
unless otherwise noted.