BeChuzzed is a Secret Mode in Chuzzle. It combines gameplay elements of Chuzzle and Bejeweled in which the Chuzzles are replaced by gems from the Bejeweled series. The game mode is not featured in the online version of Chuzzle and it is currently unknown if the game mode is also featured in other versions of Chuzzle besides the PC version.
The name of this game mode is a portmanteau of the words "Bejeweled" and "Chuzzle".
How to unlock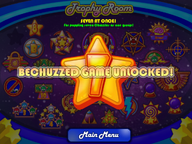 BeChuzzed is not available upon playing Chuzzle for the first time. In order to unlock the game mode, the following trophies need to be earned: Triple Combo!, Brainiac, Puzzler, Ten Grand!, and Seven at Once!. Once these trophies have been acquired, they must be clicked on in the order listed while in the Trophy Room. Clicking on each trophy in order will cause a gold star to appear in the top left corner of the screen. Clicking on a trophy incorrect to the proper sequence will reset the process in which the gold stars disappear. When the fifth trophy has been clicked on, the gold stars will vanish and a notification informing that BeChuzzed has become available will appear. Upon returning to the Main Menu screen, a small button that allows access to BeChuzzed will appear on the screen.
Gameplay
Similar to other game modes in Chuzzle, the objective of BeChuzzed is to clear gems by forming groups of three or more gems of the same type. Aside from the Chuzzles being replaced with gems, other characteristics of BeChuzzed include the following:
The large flask positioned near the bottom left corner of the screen is absent.
No penalties occur when the star-shaped "Hint" button is used. The button also does not flash repeatedly after enough time of inactivity has passed.
Fat Chuzzles and Puzzle Locks do not appear at all & Super Chuzzles cannot be created in this mode.
Similar to Zen Chuzzle, it is impossible to run out of moves in BeChuzzed.
Progress is not saved at all in BeChuzzed; exiting the game mode and returning to it begins a new game.
Scoring

We need more Gems to level-up.

This section is empty. You can help by adding to it.
Trivia
The music featured in BeChuzzed is the same as the one in Classic Chuzzle and Mind Bender.
In the Portuguese version of Chuzzle, the name of this game mode is strangely not displayed beneath where the score is shown.
Names in other languages
Language
Name
Meaning
French
BeChuzzed
BeChuzzed
German
BeChuzzelt
???
Italian
Chuzzmania
Portmanteau of the words "Chuzzle" and "mania".
Japanese

おまけモード


Omake Mōdo
Bonus Mode
Portuguese
Chuzzleado
???
Spanish
Chuzzeado
???
Community content is available under
CC-BY-SA
unless otherwise noted.